EMPATHY AND ACCEPTANCE
A. Abstract:
This presentation will include a summary of recent research on the following facets of empathy and acceptance:
(a) Biological contributors including the work of vanderkolk, Decety and their colleagues who have recently elucidated how familial and social contributors can interact with a child's brain development in a manner that can compromise their ability to be empathic
(b) The impact of digital media on the ability to think and connect deeply in a manner that develops a capacity for empathy and acceptance of others.
(c) Thoughts on generational shifts in developing empathy including profound shifts in approaches to parenting that can have significant impact of a child's ability to fully appreciate the needs of others.
(d) Recommendations for clinicians for working with parents, educators, shuls and schools in promoting empathy and acceptance at individual, familial and social areas.
All of the above will be illustrated with case vignettes and clinical anecdotes.
Brief Summary Abstract:
Recent research and clinical insights regarding multiple contributors to empathy will be presented including biological, familial and social dynamics that have led to changes in the ability to deeply connect to others. Case vignettes and clinical anecdotes will illustrate the main points of the research review.
EDUCATIONAL OBJECTIVES:
(a) To review recent research on how environmental and cultural factors can impact on brain development in a manner that can compromise one's ability to be empathic and fully connect with others.
(b) To present specific clinical interventions to help parents and their children use digital media in a manner that preserves the ability to fully connect to others.
(c) To present practical recommendations for working with parents and educators in promoting their clients capacity for empathy and engagement.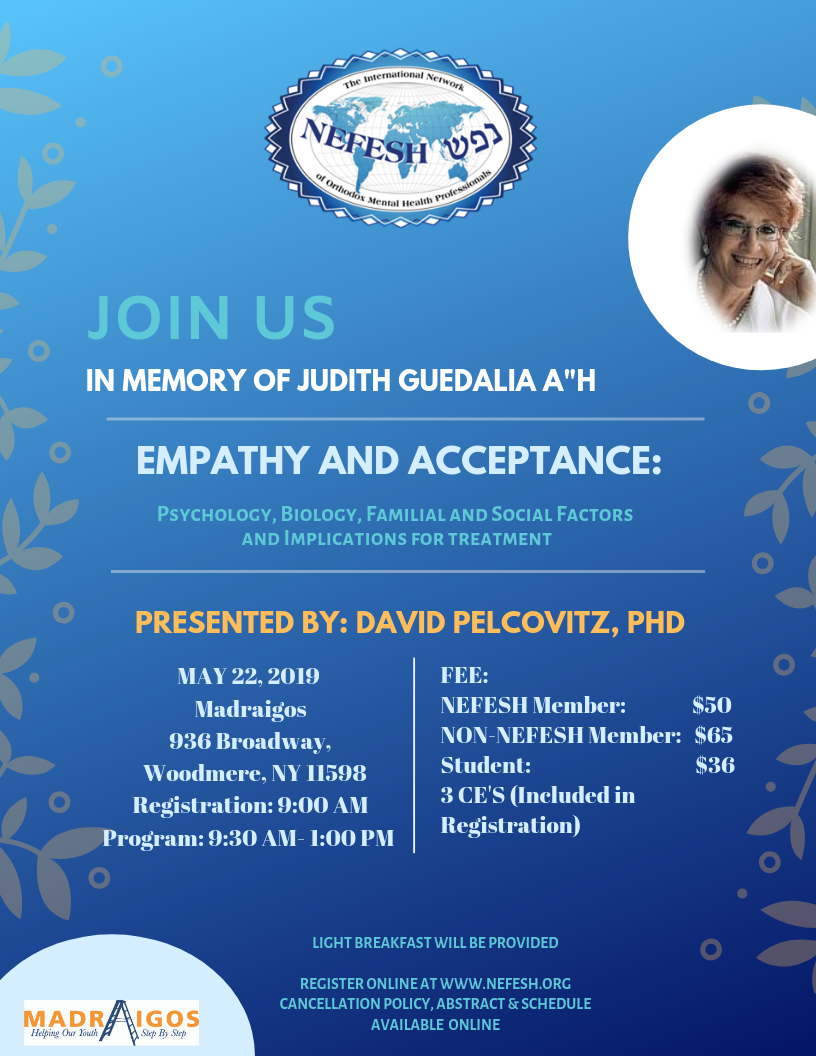 You are logged in as and are already registered for the EMPATHY AND ACCEPTANCE . If you have any modifications or questions please contact the office at 201-384-0084 or by email: nefeshsecretary@gmail.com. For spouse registration, please log out and have your spouse complete the Conference Registration form using their own account
This form is invalid or registration has closed
Selections have been updated successfully