The views and statements expressed in all blog postings do not necessarily represent the views of NEFESH and are solely the views and statements of the individual blogger.
Subscribe to this blog to get the latest updates emailed to you
Subscription complete
Open reader view
Formidable Foreskin Psychology of the Daf Shabbos 149
Rabbi Simcha Feuerman, DHL, LCSW-R
August 2nd, 2020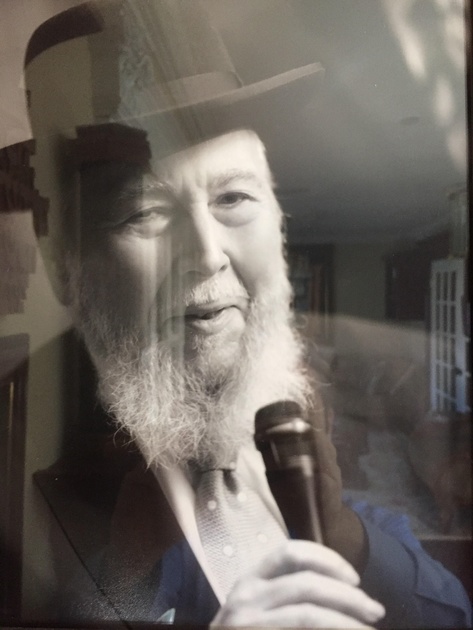 וְאָמַר רַב יְהוּדָה אָמַר רַב: בְּשָׁעָה שֶׁבִּיקֵּשׁ אוֹתוֹ רָשָׁע, לַעֲשׂוֹת לְאוֹתוֹ צַדִּיק כָּךְ, נִמְשְׁכָה עׇרְלָתוֹ שְׁלֹשׁ מֵאוֹת אַמָּה, וְהָיְתָה מְחַזֶּרֶת עַל כׇּל הַמְּסִיבָּה כּוּלָּהּ. שֶׁנֶּאֱמַר: ״שָׂבַעְתָּ קָלוֹן מִכָּבוֹד שְׁתֵה גַם אַתָּה וְהֵעָרֵל״, עָרֵל בְּגִימַטְרִיָּא שְׁלֹשׁ מֵאוֹת הָוֵי.
And Rav Yehuda said that Rav said: At the time when that wicked man, Nebuchadnezzar, wanted to do to that righteous man, Zedekiah, this act of sodomy, his foreskin was stretched three hundred cubits, and it surrounded the entire company at Nebuchadnezzar's feast, as it is stated: "Woe to one who gives his neighbor drink, who puts your venom in and also makes him drunk so that you may look upon their nakedness. You are filled with shame instead of honor. Drink, you, and be like one who is uncircumcised [vehe'arel]" (Habakkuk 2:15–16). The word arel, which refers here to one who is uncircumcised and also connotes the foreskin, has a numerical value of three hundred.
for Video Shiur click here to listen: Psychology of the DAF Shabbos 149
Mysterious aggadah.
Let's sort out what we know and what we don't know :
Homosexuality in the ancient world is not an orientation but a specific activity of domination. Might be compared to our modern conception that rape is not principally a sexual act but rather an act of violence.

Foreskin in Jewish symbolism means an occlusion and clouding of spirituality with sensuality. Thus the verse :
דברים י:טז
וּמַלְתֶּ֕ם אֵ֖ת עָרְלַ֣ת לְבַבְכֶ֑ם וְעָ֨רְפְּכֶ֔ם לֹ֥א תַקְשׁ֖וּ עֽוֹד׃
Cut away, therefore, the thickening about your hearts and stiffen your necks no more.
רש״י שם
ערלת לבבכם. אֹטֶם לְבַבְכֶם וְכִסּוּיוֹ:
ערלת לבבכם [YE SHALL CIRCUMCISE] THE FORESKIN OF YOUR HEART — This means: ye shall remove the closure and cover that is on your hearts, [which prevent My words gaining entrance to them] (cf. Rashi on Exodus 6:12 and Leviticus 19:23).
שמות ו:יב
וַיְדַבֵּ֣ר מֹשֶׁ֔ה לִפְנֵ֥י יְהוָ֖ה לֵאמֹ֑ר הֵ֤ן בְּנֵֽי־יִשְׂרָאֵל֙ לֹֽא־שָׁמְע֣וּ אֵלַ֔י וְאֵיךְ֙ יִשְׁמָעֵ֣נִי פַרְעֹ֔ה וַאֲנִ֖י עֲרַ֥ל שְׂפָתָֽיִם׃ (פ)
But Moses appealed to the LORD, saying, "The Israelites would not listen to me; how then should Pharaoh heed me, a man of impeded speech!"
רש״י שם
ערל שפתים. אֲטוּם שְׂפָתַיִם; וְכֵן כָּל לְשׁוֹן עָרְלָה אֲנִי אוֹמֵר שֶׁהוּא אָטוּם, "עֲרֵלָה אָזְנָם" (ירמיהו ו') – אֲטוּמָה מִשְּׁמֹעַ, "עַרְלֵי לֵב" (שם ט') – אֲטוּמִים מֵהָבִין, "שְׁתֵה גַּם אַתָּה וְהֵעָרֵל" (חבקוק ב') – וְהֵאָטֵם מִשִּׁכְרוּת כּוֹס הַקְּלָלָה, "עָרְלַת בָּשָׂר" – שֶׁהַגִּיד אָטוּם וּמְכֻסֶּה בָהּ, "וַעֲרַלְתֶּם עָרְלָתוֹ" (ויקרא י"ט) – עֲשׂוּ לוֹ אֹטֶם וּכְסוּי אִסּוּר שֶׁיַּבְדִּיל בִּפְנֵי אֲכִילָתוֹ, "שָׁלֹשׁ שָׁנִים יִהְיֶה לָכֶם עֲרֵלִים" (שם) – אָטוּם וּמְכֻסֶּה וּמֻבְדָּל מִלְּאָכְלוֹ:
ערל שפתים OF UNCIRCUMCISED LIPS — It really means obstructed as regards the lips. So, too, in respect to all forms derived from ערל I say that they signify obstructed. E. g. (Jeremiah 6:10) "their ear is עֲרֵלָה — stopped up so that it will not hear; (Jeremiah 9:25) "עַרְלִי in heart" — their hearts are closed so that they will not understand; (Habakkuk 2:16) "Drink thou, also וְהֵעָרֵל" — and become thou closed up (in thy senses) through intoxication caused by the cup of curse mentioned in that passage; the foreskin (ערלה) of the flesh is so called because the membrum is closed up and covered by it; (Leviticus 19:23) וערלתם ערלתו signifies, make for it (the tree) a closure (אוטם) and cover by means of an inhibition that will prove a barrier against eating it; (Leviticus 19:23 "Three years shall it be to you as ערלים" — it shall be closed up and covered and barred so that it many not be eaten.
אבן עזרא דברים י:טז
ומלתם את ערלת לבבכם. להתרחק מהתאוות העבות והכבדות כערל' גם יתכן להיות פירושו לטהר הלב עד שיבין האמת:
Circumcise the foreskin of your hearts by distancing yourselves from desires, which are as thick and as heavy as a foreskin. Perhaps the idiom also means: Purify your heart, so that it will understand the truth.
ספורנו
ומלתם את ערלת לבבכם אם כן ראוי שתסירו את ערלת שכלכם והוא שתתבוננו להסיר כל טעות מוליד דעות כוזבות:
ומלתם את ערלת לבבכם, therefore, it is appropriate that you remove the "foreskin," prejudices with which your intelligence is afflicted, so that you will realise the errors you have made in your world outlook based on false premises.
רבינו בחיי
ומלתם את ערלת לבבכם. פחיתות המדות והיצירה מגדר השוייתם יקרא ערלה, כי כל ערלה תוספת חסרון, וכל מי שהוא ערל לב אין בו כח לקבל המושכלות ולהבין דרך האמת.
. ומלתם את ערלת לבבכם, "You shall 'circumcise' the foreskin surrounding your heart." The term ערלה is applied when the Torah or the prophet wants to describe a negative character trait, a trait which inhibits development of a personality to its full potential. Anyone who is burdened with such an impediment to his personality development cannot truly embrace the commandments we know as the מצות המושכלות and to understand their true value.
מורה נבוכים ג:לג
וכן מכלל כונות התורה - הרכות ושיהיה אדם נשמע לחבריו ושלא יהיה קשה בלתי נשמע לחבריו אך יהיה עושה רצון חבריו ועונה אותם ונשמע אליהם לחפצם ושב אל רצונם. כבר ידעת מצותו ית' "ומלתם את ערלת לבבכם וערפכם לא תקשו עוד" "הסכת ושמע ישראל" "אם תאבו ושמעתם"; ונאמר במי שנשמע לקבל מה שצריך לקבלו "ושמענו ועשינו" ונאמר בו על צד המשל "משכני אחריך נרוצה":
Politeness is another virtue promoted by the Law. Man shall listen to the words of his neighbour; he shall not be obstinate, but shall yield to the wish of his fellow-men, respond to their appeal, act according to their desire, and do what they like. Thus the Law commands, "Circumcise therefore the foreskin of your heart, and be no more stiff-necked" (Deut. 10:16); "Take heed and hearken" (ibid. 27:9). "If you be willing and obedient" (Isa. 1:19). Those who listen [to the words of others] and accept as much as is right are represented as saying, "We will hear and do" (Deut. 5:24), or in a figurative style, "Draw me, we will run after thee" (Song 1:4).
Embedded between 2 paragraphs that discuss the importance of sensual abstention. The link is self gratification versus being receptive.
העמק דבר שם
A bit cryptic
ומלתם את ערלת לבבכם. החובה על כל הדיוט שלא יהא בן תמותה וערל לב מכל וכל אלא לפי ערכו יחשוב דרכו שהוא נבחר מה׳ ולזה נוצר לעבדו. ע״כ עליו לפתוח עכ״פ קצה ערלת לבבו לידיעה כ״ש:
Seems to be saying that just as we can only cut a small foreskin which is symbolic of a bigger picture, so too with our hearts we can only take one step and cut off a small amount of blockage.
Nebuchadnezer didn't know or hear something, but what?
סנהדרין צו, א
נבוכדנאצר ספריה דבלאדן הוה ההיא שעתא לא הוה התם כי אתא אמר להו היכי כתביתו אמרו ליה הכי כתבינן אמר להו קריתו ליה אלהא רבא וכתביתו ליה לבסוף אמר אלא הכי כתובו שלם לאלהא רבא שלם לקרתא דירושלם שלם למלכא חזקיה אמרי ליה קריינא דאיגרתא איהו ליהוי פרוונקא
Nebuchadnezzar was the scribe of Baladan, and at that time he was not there. When he came there he said to the other scribes: How did you write the king's message? They said to him: We wrote this: Greetings to King Hezekiah, greetings to the city of Jerusalem, and greetings to the great God, as we were commanded. Nebuchadnezzar said to the scribes: You called him: The great God, and you wrote Him at the end of the list of greetings? He said: Rather, write this: Greetings to the great God, greetings to the city of Jerusalem, and greetings to King Hezekiah. The scribes said to Nebuchadnezzar: The one who reads the letter, let him be the messenger. You gave the advice; you correct the text.
רהט בתריה כדרהיט ארבע פסיעות אתא גבריאל ואוקמיה אמר ר' יוחנן אילמלא (לא) בא גבריאל והעמידו לא היה תקנה לשונאיהם של ישראל
Nebuchadnezzar pursued the messenger to take the letter from him and revise it. When he ran four paces, the angel Gabriel came and stopped his pursuit. Rabbi Yoḥanan says: If Gabriel had not come and stopped his pursuit there would have been no remedy for the enemies of the Jewish people, a euphemism for the Jewish people. Had Nebuchadnezzar succeeded in revising the letter, his reward would have been so great that he would have been able to destroy the Jewish people, as he desired.
This man had greatness in him but wasn't always able to get past his own desires. This is what it means by the angel Gabriel
Gavriel can represent the disruption of spirituality by physical desire:
Examples :
סנהדרין כ״א, ב
אמר רבי יצחק בשעה שנשא שלמה את בת פרעה ירד גבריאל ונעץ קנה בים והעלה שירטון ועליו נבנה כרך גדול שברומי
Rabbi Yitzḥak says: When Solomon married Pharaoh's daughter, the angel Gabriel descended from Heaven and implanted a pole in the sea. And it gradually raised up a sandbar [sirton] around it, creating new, dry land, and on it the great city of Rome was built. This shows that the beginning of the Jewish people's downfall to Rome came with Solomon's marriage to Pharaoh's daughter.
בראשית רבה א:כו
וַיִּגְדַּל הַיֶּלֶד. עֶשְׂרִים וְאַרְבָּעָה חֹדֶשׁ הֱנִיקַתְהוּ, וְאַתָּה אוֹמֵר: וַיִּגְדַּל הַיֶּלֶד, אֶלָּא שֶׁהָיָה גָּדֵל שֶׁלֹא כְּדֶרֶךְ כָּל הָאָרֶץ. וַתְּבִאֵהוּ לְבַת פַּרְעֹה וגו'. הָיְתָה בַת פַּרְעֹה מְנַשֶּׁקֶת וּמְחַבֶּקֶת וּמְחַבֶּבֶת אוֹתוֹ כְּאִלּוּ הוּא בְּנָהּ, וְלֹא הָיְתָה מוֹצִיאַתּוּ מִפַּלְטֵרִין שֶׁל מֶלֶךְ, וּלְפִי שֶׁהָיָה יָפֶה הַכֹּל מִתְאַוִּים לִרְאוֹתוֹ, מִי שֶׁהָיָה רוֹאֵהוּ לֹא הָיָה מַעֲבִיר עַצְמוֹ מֵעָלָיו. וְהָיָה פַּרְעֹה מְנַשְׁקוֹ וּמְחַבְּקוֹ, וְהוּא נוֹטֵל כִּתְרוֹ שֶׁל פַּרְעֹה וּמְשִׂימוֹ עַל רֹאשׁוֹ, כְּמוֹ שֶׁעָתִיד לַעֲשׂוֹת לוֹ כְּשֶׁהָיָה גָּדוֹל. וְכֵן הַקָּדוֹשׁ בָּרוּךְ הוּא אָמַר לְחִירָם (יחזקאל כח, יח): וָאוֹצִא אֵשׁ מִתּוֹכְךָ הִיא וגו'. וְכֵן בַּת פַּרְעֹה מְגַדֶּלֶת מִי שֶׁעָתִיד לִפָּרַע מֵאָבִיהָ. וְאַף מֶלֶךְ הַמָּשִׁיחַ שֶׁעָתִיד לִפָּרַע מֵאֱדוֹם יוֹשֵׁב עִמָּהֶם בַּמְּדִינָה, שֶׁנֶּאֱמַר (ישעיה כז, י): שָׁם יִרְעֶה עֵגֶל וְשָׁם יִרְבָּץ וגו'. וְהָיוּ שָׁם יוֹשְׁבִין חַרְטֻמֵּי מִצְרַיִם, וְאָמְרוּ, מִתְיָרְאִין אָנוּ מִזֶּה שֶׁנּוֹטֵל כִּתְרְךָ וְנוֹתְנוֹ עַל רֹאשׁוֹ, שֶׁלֹא יִהְיֶה זֶה אוֹתוֹ שֶׁאָנוּ אוֹמְרִים שֶׁעָתִיד לִטֹּל מַלְכוּת מִמְּךָ. מֵהֶם אוֹמְרִים לְהָרְגוֹ, מֵהֶם אוֹמְרִים לְשָׂרְפוֹ, וְהָיָה יִתְרוֹ יוֹשֵׁב בֵּינֵיהֶן וְאוֹמֵר לָהֶם, הַנַּעַר הַזֶּה אֵין בּוֹ דַּעַת, אֶלָּא בַּחֲנוּ אוֹתוֹ, וְהָבִיאוּ לְפָנָיו בִּקְעָרָה זָהָב וְגַחֶלֶת, אִם יוֹשִׁיט יָדוֹ לַזָּהָב יֵשׁ בּוֹ דַּעַת וְהִרְגוּ אוֹתוֹ, וְאִם יוֹשִׁיט יָדוֹ לַגַּחֶלֶת אֵין בּוֹ דַּעַת וְאֵין עָלָיו מִשְׁפַּט מָוֶת. מִיָּד הֵבִיאוּ לְפָנָיו וְשָׁלַח יָדוֹ לִקַּח הַזָּהָב, וּבָא גַּבְרִיאֵל וְדָחָה אֶת יָדוֹ וְתָפַשׂ אֶת הַגַּחֶלֶת וְהִכְנִיס יָדוֹ עִם הַגַּחֶלֶת לְתוֹךְ פִּיו וְנִכְוָה לְשׁוֹנוֹ, וּמִמֶּנּוּ נַעֲשָׂה (שמות ד, י): כְּבַד פֶּה וּכְבַד לָשׁוֹן. וַתִּקְרָא שְׁמוֹ משֶׁה, מִכָּאן אַתָּה לָמֵד שְׂכָרָן שֶׁל גּוֹמְלֵי חֲסָדִים, אַף עַל פִּי שֶׁהַרְבֵּה שֵׁמוֹת הָיוּ לוֹ לְמשֶׁה, לֹא נִִקְבַּע לוֹ שֵׁם בְּכָל הַתּוֹרָה אֶלָּא כְּמוֹ שֶׁקְּרָאַתּוּ בַּתְיָה בַּת פַּרְעֹה, וְאַף הַקָּדוֹשׁ בָּרוּךְ הוּא לֹא קְרָאָהוּ בְּשֵׁם אַחֵר:
"And the child (Moses) grew" - Twenty four months she nursed him, and you say "and the child grew"?! Rather he grew, not in the way of the [rest] land. "And she brought him to the daughter of Pharaoh…" The daughter of Pharaoh would kiss and hug and adore him (Moses) as if he were her own son, and she would not take him out of the king's palace. And because [Moses] was so beautiful, everyone yearned to see him. One that would see him would not leave his presence. And it was that Pharaoh would kiss him (Moses) and hug him, and he would remove Pharaoh's crown and place it on his own head, as he would do to him in the future when he was great. And just as the Holy One Blessed is He said to Hiram (Ezekiel 28:18), "…I have brought fire from within you, it will consume you…", similarly the daughter of Pharaoh raised the one who would punish her father in the future. And even the anointed king, that is destined to punish Edom, sits among them in their [own] province, as it says (Isaiah 27:10) "…there shall the calf (the Messiah) graze and there lie down and destroy its branches." And some of the observers sitting among them were the magicians of Egypt that said, "We are wary of this, that he is taking your crown and placing it on his head, that he not be the one we say (i.e. prophesy) that will take the kingship from you." Some said to kill him, and some said to burn him. And Jethro was sitting among them and said to them, "This child has no intent [to take the throne]. Rather, test him by bringing in a bowl [a piece of] gold and a coal. If he outstretches his hand towards the gold, [surely] he has intent [to take the throne], and you should kill him. And if he outstretches his hand towards the coal, he [surely] does not have intent [to take the throne], and he does not deserve the death penalty." They immediately brought the bowl before him (Moses), and he outstretched his hand to take the gold, and Gabriel came and pushed his (Moses') hand, and he grabbed the coal. He then brought his hand along with the coal into his mouth and burned his tongue, and from this was made (Exodus 4:10) "slow of speech and slow of tongue." "And she called his name 'Moshe'" – From here you can learn about the merit of those that perform acts of kindness. Even though Moses had many names, the only name that was set throughout the Torah, was the name that Bathyah daughter of Pharaoh called him. Even the Holy One Blessed is He did not call him by another name.
So Gavriel introduces physicality to Baby Moshe to save his life and he chooses the shiny coals BUT then becomes ערל שפתיים now we come full circle .
for Video Shiur click here to listen: Psychology of the DAF Shabbos 149
Translations Courtesy of Sefaria
Photo Abba Mari Rav Chaim Feuerman, Ed.D. ZT"L Leiyluy Nishmaso
For Video versions of this click here, and look for title and daf.
Translations Courtesy of Sefaria